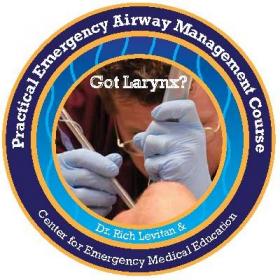 Practical Emergency Airway Management - August 2017
August 3, 2017

to

August 4, 2017
The Practical Emergency Airway Management 2 day course provides an in-depth look at effective airway management techniques that you will actually use in your next emergency airway
This course provides an in-depth look at effective surgical airway management techniques that you will actually use in your next emergency airway. There is a unique focus on airway anatomy and imaging combined with one-of-a-kind opportunity to practice the techniques on a large variety of non-embalmed, specially prepared cadavers. This is the only cadaver airway course available. This course teaches practical, effective skills and strategies for adult and pediatric intubation that promote patient safety and increase provider confidence.
Topics covered include orotracheal intubation, laryngoscopy, surgical airways (cricothyrotomy, tracheotomy), video laryngoscopy, fiberoptic intubation, nasotracheal intubation, pediatric intubation, and rescue ventilation devices such as the laryngeal mask airway. The intubation and ventilation techniques and devices are presented within an overall practical algorithm for the difficult airway that is applicable for emergency settings. There is significant focus on patient safety and a best practice approach to rapid sequence intubation.
What makes the Practical Emergency Airway Management course different from other airway courses?
Countless courses on the difficult airway, intubation, and rapid sequence intubation use plastic mannequins for hands-on practice. This surgical airway course combines an enormous amount of airway imaging with 20 cadavers that have been specially prepared to have normal tissue turgor (not embalmed). The net effect is a truly unique visual and hands-on, real tissue experience available nowhere else in the world.
This course provides hands-on device practice on specially prepared cadavers using the following tools:
Curved blade laryngoscope
Straight blade laryngoscope
Malleable stylets
Bougie (a.k.a. tube introducer)
Specialized oral airways and tracheal tubes          
Fiberoptic stylets

 King Vision Video Laryngoscope

LMA Unique
Fastrach Intubating LMA
I-Gel Laryngeal Mask
Cook Intubating Laryngeal Airway          
Esophageal Tracheal Combitube
King Laryngeal Tube

GlideScope Video Laryngoscope
Storz C-Mac Video Laryngoscope    
Pentax Airway Scope
McGrath Video Laryngoscope 
AirTraq Optical Laryngoscope
Open Cricothyrotomy
Target Audience
The course is tailored to emergency physicians, but critical care physicians, hospitalists, anesthesiologists, and respiratory therapy and paramedical personnel responsible for emergency airways will also benefit from this specialized practical approach.
---
Cancellation Policy
Cancellations must be made in writing to CEME at ceme@ceme.org. Refunds, less a $100 processing fee, are provided if cancellation occurs more than 45 days in advance of the course. Cancellations received between 10 and 45 days incur a $500 charge. Substitutions/transfers may be made up to 21 calendar days before the course. No refunds available for cancellation within 10 days of the course date. 
Learning Objectives
Formulate an overall strategy for different emergency airway situations emphasizing pre-procedural assessment of the "difficult" airway, indications for nasal and surgical airways, and the role of rapid sequence intubation.
Apply and understand techniques of laryngoscopy including external laryngeal manipulation, head elevated positioning, and paraglossal straight blade technique.
Effectively use laryngoscopy adjuncts including tube stylets and introducers, as well as understanding the fundamentals of laryngoscopy blade design and selection.
Explain the role for and the methods of insertion for rescue ventilation devices including the laryngeal mask airway and tracheal-esophageal Combitube, as well as means of transitioning
from such devices to tracheal tube placement.
Describe laryngeal and upper airway anatomy including the structures about the laryngeal inlet, and the significance of these anatomic landmarks in terms of laryngoscopy, rescue ventilation, and surgical airway techniques.
Cite the indications and techniques of emergency surgical airways including retrograde intubation, cricothyrotomy, and tracheotomy.
---
Hilton - Baltimore
401 W. Pratt St.
United States
Click the link below for group reservations  
https://aws.passkey.com/e/49113146
---
Richard M. Levitan, MD - Course Director: Visiting Professor-University of Maryland Medical Center and Adjunct Professor of Medicine (Emergency Medicine) Dartmouth (Geisel) School of Medicine, Hanover, NH
Ken Butler, DO - Associate Professor,  Emergency Medicine, University of Maryland Medical Center
James T. Pisaturo, EMT-P - Hospital University of Pennsylvania, Philadelphia, PA
Jorge L. Cabrera, DO - Assistant Professor of Medicine, University of Miami Miller School of Medicine, Associate Director of UHealth Medical Intensive Care Units
Disclosure of Faculty Financial Interests or Relationships:
It is the policy of the Center for Emergency Medical Education (CEME) to insure balance, independence, objectivity, and scientific rigor in all its sponsored educational activities, and that all contributors present information in an objective, unbiased manner without endorsement or criticism of specific products or services and that the relationships that contributors disclose will not influence their contributions. In accordance with the Standards for Commercial Support issued by the Accreditation Council for Continuing Medical Education (ACCME), The Center for Emergency Medical Education (CEME) requires resolution of all faculty conflicts of interest to ensure CME activities are free of commercial bias. All individuals in a position to control the content of this CME activity have indicated that he/she has no relevant financial relationships, which, in the context of this CME activity, could be perceived as a potential conflict of interest. Complete disclosure of relevant (or no) financial relationships will be made to learners prior to the beginning of the CME activity. All faculty pictured may not be at all scheduled course dates.
Available Credit
15.00

AMA PRA Category 1 Credits™

15.00

Certificate of Participation
There are no more spaces available for this course.