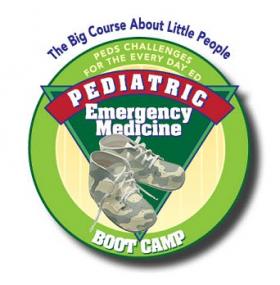 Pediatric Emergency Medicine Boot Camp - DVD Set
 This "Boot Camp" is a pediatric emergency medicine conference designed to focus on the daily needs of all EM providers taking care of pediatric patients in their EDs. No need to fear the Peds case again.  Our goal is to provide expert emergency medical education; regarding what every emergency physician and other providers need to know to get through a shift full of pediatric patients and feel confident in the care they've provided.   Nationally recognized faculty will provide you with the pearls and cutting edge information to gain, regain or develop more confidence in treating pediatric patients.
For common cases to the extremely rare, all this and more will be covered by our national pediatric Emergency Medicine specialists, making this course the most practical pediatric course you are likely to find anywhere.
Real World Solutions for Real World Issues!
Incorporate strategies into practice to reduce the likelihood of misdiagnosis of pediatric emergencies.
One of the best airway lectures you'll ever hear!
Target Audience
The Pediatric Emergency Medicine Boot Camp course is designed to meet the needs of all providers caring for Emergency Department pediatric patients.
Learning Objectives
Identify the fundamental knowledge of clinicians treating pediatric patients in the ER.
Incorporate strategies into practice to reduce the likelihood of misdiagnosis of pediatric emergencies.
Identify physical examination findings suggestive of critical illness in pediatric patients to avoid inappropriate discharges.
GHAZALA SHARIEFF, MD, FACEP, FAAEM – COURSE CO-DIRECTOR
Ghazala Sharieff is the Director of Pediatric Emergency Medicine at Palomar-Pomerado Health System. She holds a Clinical Professor appointment at the University of California, San Diego. She is a diplomate of both the American Board of Pediatrics and the American Board of Emergency Medicine. She is a Fellow in the American College of Emergency Physicians, the American Academy of Emergency Medicine and the American Academy of Pediatrics.
LAWRENCE SATKOWIAK, MD, FAAP – COURSE CO-DIRECTOR
Lawrence Satkowiak is the Medical Director of the Emergency Department at Children's Hospital Central California and the Director of Pediatrics for Emergency Medicine Physicians. He has over 20 years of clinical practice in pediatric emergency medicine. He has lectured nationally at ACEP and at other PEM conferences.
AL SACCHETTI, MD, FACEP
Al Sacchetti is the Chief of Emergency Services at Our Lady of Lourdes Medical Center in Camden, NJ and Assistant Clinical Professor of Emergency Medicine at Thomas Jefferson University in Philadelphia, PA.  He is a full time practicing emergency physician as well as a researcher and educator and has authored over 100 journal publications, text book chapters and monog
MAUREEN MCCOLLOUGH, MD, FACEP
Maureen McCollough is Associate Professor of Pediatrics and Clinical Emergency Medicine at the University of Southern California Keck School of Medicine and Director, Division of Pediatric Emergency Department, Department of Emergency Medicine, Los Angeles County–USC Medical Center, Los Angeles, California.
RICHARD LEVITAN, MD
Richard Levitan is Associate Professor of Emergency Medicine at Thomas Jefferson University Hospital, Philadelphia, PA. He is an emergency physician, researcher, inventor of the Airway Cam direct laryngoscopy video system and the Levitan FPS optical stylet, and is an internationally recognized expert in the area of emergency airway management. Dr. Levitan has been published widely in leading peer-reviewed journals in the field of emergency medicine and related specialties, and has given over 350 invited lectures on airway management around the country and the world.
Disclosure of Faculty Financial Interests or Relationships:
It is the policy of the Center for Emergency Medical Education (CEME) to insure balance, independence, objectivity, and scientific rigor in all its sponsored educational activities, and that all contributors present information in an objective, unbiased manner without endorsement or criticism of specific products or services and that the relationships that contributors disclose will not influence their contributions. In accordance with the Standards for Commercial Support issued by the Accreditation Council for Continuing Medical Education (ACCME), The Center for Emergency Medical Education (CEME) requires resolution of all faculty conflicts of interest to ensure CME activities are free of commercial bias. All individuals in a position to control the content of this CME activity have indicated that he/she has no relevant financial relationships, which, in the context of this CME activity, could be perceived as a potential conflict of interest. Complete disclosure of relevant (or no) financial relationships will be made to learners prior to the beginning of the CME activity. All faculty pictured may not be at all scheduled course dates.
Available Credit
14.25

AMA PRA Category 1 Credits™

14.25

Certificate of Participation