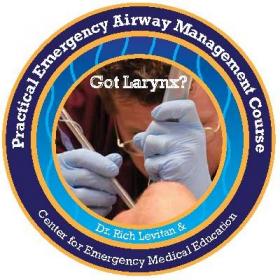 Hackensack Practical Emergency Airway Management - April 4, 2018
Full day course involving both didactic and hands-on experience addressing three primary areas of emergency airway management: 1) addressing critical hypoxia and how to prevent it during emergency airways; 2) a first pass approach to direct and video laryngoscopy and intubation; and 3) a step-wise, highly incrementalized approach to surgical airways (cricothyrotomy) as well as a review of it's indications in emergency airways
Target Audience
The course is tailored to emergency physicians, but critical care physicians, hospitalists, anesthesiologists, and respiratory therapy and paramedical personnel responsible for emergency airways will also benefit from this specialized practical approach.
Learning Objectives
Provide an overview of critical airway anatomy using a variety of imaging techniques.
Review and hands-on practice with different direct and video laryngoscopes, highlighting design differences, challenges of laryngeal exposure and tube delivery.
Discuss benefits and indications for different devices in challenging airways, and use video examples to demonstrate their performance in real tissue.
Explain critical anatomic aspects of the surgical airway through hands-on examination of the anatomic model, advanced imaging (CT radiography), and video examples of cricothyrotomy.
Teach a methodical step-wise approach to cricothyrotomy, highlighting efficiency of movements and reliability of performance, even in anatomically challenging patients.
Review indications for cricothyrotomy in this new age of alternative rescue ventilation devices and oxygenation techniques.
Discuss strategies to ensure oxygenation and prevent regurgitation. Explain "resucuscitation sequence intubation"—i.e., timing intubation within the larger framework of critical care for patients who require airway management.
Richard M. Levitan, MD - Course Director: Visiting Professor-University of Maryland Medical Center and Adjunct Professor of Medicine (Emergency Medicine) Dartmouth (Geisel) School of Medicine, Hanover, NH
Disclosure of Faculty Financial Interests or Relationships:
It is the policy of the Center for Emergency Medical Education (CEME) to insure balance, independence, objectivity, and scientific rigor in all its sponsored educational activities, and that all contributors present information in an objective, unbiased manner without endorsement or criticism of specific products or services and that the relationships that contributors disclose will not influence their contributions. In accordance with the Standards for Commercial Support issued by the Accreditation Council for Continuing Medical Education (ACCME), The Center for Emergency Medical Education (CEME) requires resolution of all faculty conflicts of interest to ensure CME activities are free of commercial bias. All individuals in a position to control the content of this CME activity have indicated that he/she has no relevant financial relationships, which, in the context of this CME activity, could be perceived as a potential conflict of interest. Complete disclosure of relevant (or no) financial relationships will be made to learners prior to the beginning of the CME activity. All faculty pictured may not be at all scheduled course dates.
Available Credit
7.00

AMA PRA Category 1 Credits™

7.00

Certificate of Participation