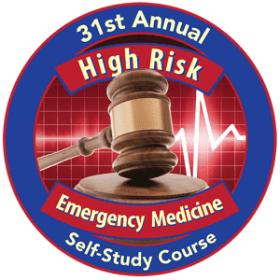 31st Annual High Risk Emergency Medicine - Streaming Video
The Self-Study Course Designed to Keep You Out of the Courtroom
DESIGNED AND TAUGHT BY EMERGENCY PHYSICIANS AND MEDICAL MALPRACTICE ATTORNEYS, THIS HREM COURSE IS A COMPREHENSIVE REVIEW OF THE MEDICAL-LEGAL ISSUES INHERENT TO THE PRACTICE OF EMERGENCY MEDICINE.
Using actual case analysis and a review of the medical literature, this CME course identifies the critical components of the history, physical exam and data collection process that are critical to assuring a well-supported evaluation, treatment and disposition. Important principles in communication, documentation, medical-legal strategies and EMTALA compliance are discussed to help participants develop an effective Emergency Department Risk Management Program.
The Thirty First Annual Edition of this emergency medicine CME course has been revised to include the most recent, relevant literature, malpractice and EMTALA cases. Participants will also receive a comprehensive PDF syllabus and annotated bibliography that features practical management recommendations for reducing risk while providing high quality patient care.
Target Audience
This course is designed to benefit physicians, nurses, and physician assistants providing acute care. Malpractice attorneys, hospital risk management staff, and quality management staff will also benefit from this CME course.
Learning Objectives
After completing this CME course, participants should be able to:
Review current medical literature and analyze actual emergency medicine malpractice cases to improve patient outcomes and avoid malpractice claims.
Identify the critical components of the history, physical exam and data collection process that are critical to assuring a well-supported evaluation, treatment and disposition of Emergency Department patients.
Develop an effective Emergency Department Risk Management program.
Amal Mattu, MD, FACEP completed an emergency medicine residency at Thomas Jefferson University Hospital in Philadelphia, after which he completed a teaching fellowship with a special focus on emergency cardiology. Since joining the faculty at the University of Maryland in 1996, he has developed an academic niche in emergency cardiology and electrocardiography, and he also enjoys teaching and writing about other topics such as emergency geriatrics, faculty development, and risk management. He currently is a tenured professor and Vice Chair of Emergency Medicine at the University of Maryland School of Medicine. 
Angela Aboutalib, MD is a hospitalist and the National Director of HM Quality and Education for US Acute Care Solutions- Integrated Acute Care. She is also an adjunct clinical assistant professor for Lake Erie College of Osteopathic Medicine, patient experience faculty member, and a teaching attending for both medical students and physicians assistants. She serves as the Chair of the National Peer Review Committee, board member of Diversity and Inclusion, and member of the Women's Resource Group. Prior to her current role, she was the Director of Clinical Operations for Integrated Acute Care.  She earned her medical degree at St. Matthew's University School of Medicine in Grand Cayman and completed her residency at West Suburban Hospital in Oak Park, IL. 
W. Richard Bukata, MD is Adjunct Clinical Professor of the clinical Emergency Medicine of Southern CA, Keck School of Medicine, Medical Director of the Center for Medical Education, Creamery, PA, Founding Editor of Emergency Medical Abstracts; Developer of National Emergency Medicine Board Review, Emergency Medicine & Acute Care; Co-Editor of the audio publication, Risk Management Monthly. 1993 recipient of the ACEP Outstanding Contribution in Education award.
Amer Aldeen, MD, FACEP is chief medical officer (CMO) of USACS, responsible for education, safety, quality, innovation, risk management, recruiting, research, clinician engagement, and patient experience. He also serves as chair of the Clinician Assurance Risk Retention Group (CARRG) Board. Dr. Aldeen joined USACS in 2014 from Northwestern Memorial Hospital in Chicago where he had been associate medical director and associate residency director of emergency medicine.
John Bedolla, MD is an internationally recognized and licensed expert in catastrophic risk prediction and prevention. At US Acute Care Solutions, he is the Chief Decision Scientist and Director of Risk, overseeing 10 million ED visits annually. At Dell Medical School, Dr. Bedolla specializes in designing and implementing advanced decision-making strategies. He is also a Chief Medical Officer for Formula 1 and the founder of an elite motorsports medical internship
Roya Caloia, DO, FACEP, FAAEM is Core Faculty, Emergency Medicine Residency Ascension Genesys Hospital, Grand Blanc, MI Clinical Assistant Professor, Michigan State University College of Osteopathic Medicine Vice Chair, National Clinical Governance Board,
Jestin Carlson, MD is the National Director of Clinical Education for USACS. He also is the Program Director for the Saint Vincent Emergency Medicine Residency and vice-chair of the Allegheny Health Network Institutional Review Board.   
Dr. Carlson has a focus on resuscitation research and education with more than 150 manuscripts published in peer-reviewed journals.  He sits on the international liaison committee on resuscitation/American Heart Association First Aid Task Force and the American Red Cross Scientific Advisory committee.  He earned his medical degree at State University of New York at Buffalo, completed his emergency medicine residency and a research fellowship at the University of Pittsburgh, and Master of Healthcare Administration from Gannon University 
John Casey, DO, MA, FACEP is a board-certified emergency physician and a fellow of both ACEP and ACOEP. He serves as Residency Program Director for the emergency medicine residency at OhioHealth Doctors Hospital in Columbus, Ohio. Dr. Casey also serves as EMS medical director for multiple EMS agencies and has extensive background in EMS education and leadership.
Nicole Cimino-Fiallos, MD, FACEP is a Board Certified emergency medicine physician in Baltimore, Maryland. She graduated residency from the University of Maryland Emergency Medicine program in 2017. She developed her interest in the emergency care of older adults during her senior project in residency, which focused on elder abuse.
Orion Colfer, MD, FACEP is board certified Emergency Medicine physician.  He is the National Director of Patient Experience and Director of the US Acute Care Solution's Scholars Program and earned his executive coaching certification from the prestigious University of California – Berkeley's Executive Coaching Institute.  He is the National Director of the Center for Emergency Medical Education. 
Sujit Iyer, MD  is the USACS National Director of Pediatric Services. He also is an assistant medical director for Dell Children's Medical Center of Central Texas where he practices as an emergency physician and is an associate professor in the Department of Pediatrics. He is also the program director of the Pediatric Emergency Medicine Fellowship.  He has served as a clinical instructor for the Departments of Pediatrics at Baylor College of Medicine and University of Pennsylvania.
Dusty Otwell, Esq. is Vice President for Claims and Risk Management at US Acute Care Solutions. Also serves as Chief Operating Officer and Corporate Secretary for Clinician Assurance Risk Retention Group, the self-insurance carrier for USACS. He oversees all malpractice litigation defense and works with clinical leadership to drive risk management initiatives throughout the organization with over nine million patient visits annually. Dusty is responsible for industry-leading results on malpractice risk management, consistently achieving claims rates less than one-half of comparable benchmarks. Dusty worked for eight years for Emergency Service Partners as Associate General Counsel and Director of Risk Management. Earlier in his career, he provided malpractice risk management counsel for ProAssurance Corporation, and practiced in litigation with Maynard, Cooper & Gale in Birmingham, Alabama.
Ross P. Berkeley, MD, FACEP, FAAEM is a professor and Program Director of the emergency medicine residency, and Interim Chair of the Department of Emergency Medicine at Kirk Kerkorian School of Medicine at UNLV. He is the director of the national High Risk Emergency Medicine course and applies his expertise to help implement quality improvement strategies in multiple emergency departments across the country. He currently co-chairs the Quality & Patient Safety Committee at University Medical Center (UMC) of Southern Nevada, and has served as the Director of Quality in emergency departments in both community and academic settings.  Dr. Berkeley volunteers as a tactical physician for the Las Vegas Metropolitan Police Department SWAT team, and serves as the EMS Medical Advisor for Lake Mead National Recreation Area as well as the EMS Director for the College of Southern Nevada paramedic program.
Disclosure
John Casey, MD reported he receives a consulting fee from Vapotherm, Inc.
All other faculty have no relationship with a commercial interest.
The Center for Emergency Medical Education (CEME) is accredited by the Accreditation Council for Continuing Medical Education to provide continuing medical education for physicians. 
The Center for Emergency Medical Education (CEME) designates this enduring activity for a maximum of 12.50 AMA PRA Category 1 Credits™. 
Physicians should claim only the credit commensurate with the extent of their participation in the activity. 
Available Credit
12.50

AMA PRA Category 1 Credits™

12.50

AOA Category 2A

12.50

Certificate of Participation