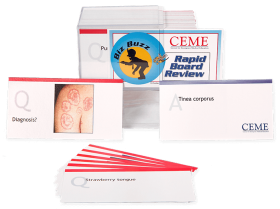 EM Board Review Biz Buzz! Rapid Review Flashcards
That's right – flash cards! When prepping for your emergency medicine board review, sometimes you just need a quick review and refresher of the facts and photos you don't want to forget.
You can buzz through our Biz Buzz Rapid Review Flashcards and quiz yourself quickly.
Sample questions:
Q. Sandpaper rash with pastia's lines
A. Scarlet Fever
Q. Yellow vision
A. Digitalis toxicity
Q. Cocci in chains
A. Streptococcus
You'll receive:
Condensed format flashcards for rapid review
A 225 card set in a clear acrylic box
New and updated information that gives you the best information for review!
Target Audience
Emergency medicine physicians taking cert or recert exam